Welcome to Mid-America Specialty Markets. We've got a story to tell!
Mid-America Specialty Markets is an independent insurance agency providing commercial (business) insurance products and personal insurance products to clients in the State of Missouri, Kansas and surrounding areas from our eleven affiliated local offices located throughout the area. We are committed to developing a professional relationship with our clients by providing high quality insurance products and services to meet their specific needs.
We started our business in 1992 in Columbia, Missouri.
Our single focus of working with business owners and we continue today providing a broad range of business insurance products for our clients throughout the Mid-Missouri area. Contractors, manufacturers, e-commerce, distributors, retailers and service operations all have many common insurance denominators. All have specialized business insurance needs. It's those specialized needs that require identification and attention. It's with those specialized needs that Mid-America Speciality Markets can help.
Why do business with Mid-America Specialty Markets?
Unlike a captive, or direct insurance company who only offers their own proprietary products, our agency is 100% independent of any one company. Many insurance consumers don't fully understand just how important that really is.
When it comes to something as important as insurance, it's imperative that you work with an agency who has an in-depth knowledge of multiple insurance products, companies, and guidelines — not just one.
At the end of the day, what separates one agent from another, is their ability to proactively service their policy holders, and their knowledge of the insurance industry, products, and different situations that may present themselves to their clients.
Our Experience and Education
It's our experience and education that set us apart from our competitors!
Insurance Experience –
With over 150 years of combined insurance experience you'll find Mid-America Specialty Markets has a solid, proven presence of providing superior insurance products for clients in Missouri and the surrounding areas. Experience from hands on account management.
It's the experience of each agency member that we draw upon every day to continually improve our business operations.
It's the experience of each agency member has gained and shares that allows us to provide outstanding client service.
It's the experience of our staff that delivers security and protection for clients' families, homes and businesses.
Education and experience in our industry is important. With over 150 years of combined experience and a variety of professional designations conferred upon our agency staff, it's our education that sets us apart. We take continuing education very seriously.
Insurance Education –
There's no substitute for insurance education. Check out our credentials:
Certified Risk Manager (CRM) – The Certified Risk Manager designation is recognized worldwide as the professional standard. As of 2007 there are less than 2000 CRM's worldwide. In order to secure this professional designation the successful candidate must complete the rigorous coursework offered by The National Alliance of Insurance Education and Research. The CRM designation is a visible confirmation of professionalism in all areas of managing risks, hazards, and exposures and proves a commitment to continuing excellence. The CRM is knowledgeable about today's highest priorities – identifying, analyzing, controlling, financing, and administering operational risks – as well as political risks, catastrophic loss exposures, third-party exposures, fiduciary exposures, employee injury exposures, juridical risks, legal risks, and more – whether insurable or not. Risk Management is an ever growing field of work, touches every business and it dovetails from the world of insurance.
Certified Insurance Counselor (CIC) – Certified Insurance Counselor (CIC) is an insurance industry professional certification designation. The CIC certification program was started by the National Alliance for Insurance Education & Research in Austin, Texas in 1969. A CIC is recognized throughout the insurance industry as a true professional, as someone who has achieved a higher level of insurance education. The CIC designation is conferred upon those who meet insurance industry experience, complete five required educational institutes and pass each institutes' rigorous exams. A CIC must update their CIC designations annually by attending various continuing education programs.
Associate in Risk Management (ARM) – A professional designation earned after the successful completion of three national examinations given by the Insurance Institute of America (IIA). Covers such areas of expertise as essentials of risk management (identification and measurement of loss exposures, and analyzing various techniques to deal with the exposure); essentials of risk control' and essentials of risk financing (risk retention and commercial insurance). Program of study is recommended for individuals involved in the areas of risk management for noninsurance companies, as well as insurance producers who desire to provide risk management counseling to their clients.
Accredited Advisor in Insurance (AAI) – A professional designation earned after successfully completing three national examinations given by the Insurance Institute of America (IIA). The curriculum was developed in conjunction with the Independent Insurance Agents of America consisting of the principles of insurance production, multiple-lines insurance, agency operations and sales management.
Independent Agent Vs. The Rest
Here is a quick comparison of the differences between an independent agency like us, and the various other types of companies that are out there: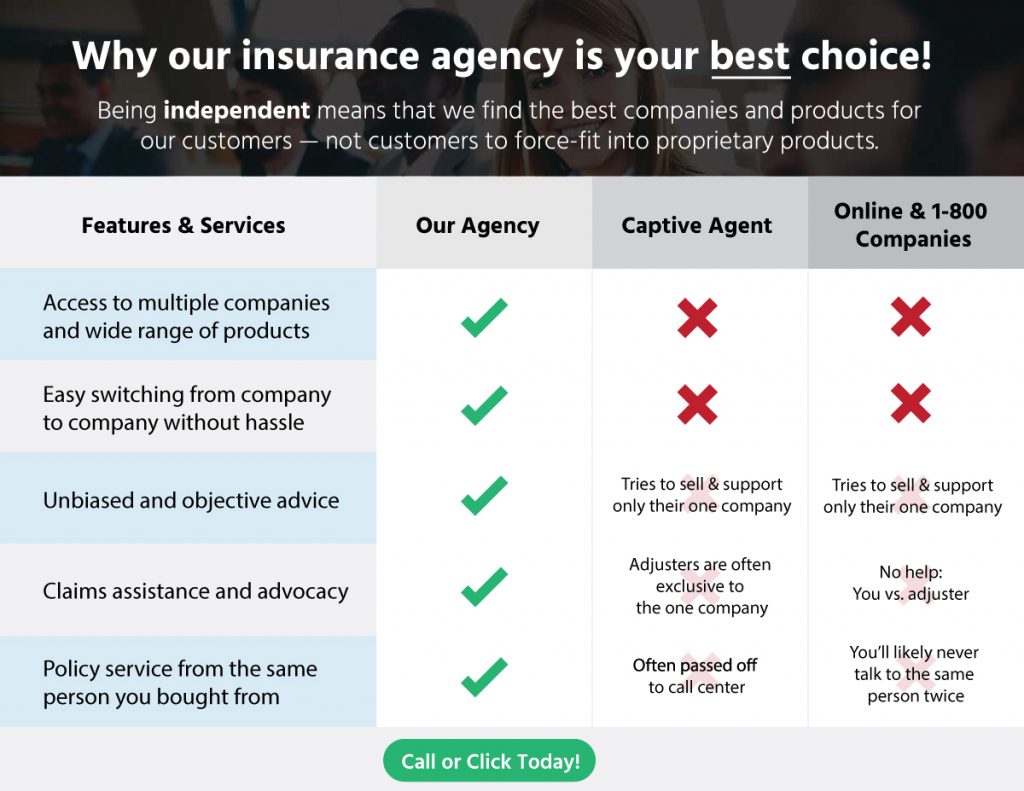 Code of Ethics
As a professional insurance agency we take what we do very seriously. We believe each and every client deserves the high level of service of which Mid-America Specialty Markets has become known. Our clients are the life blood of our business and we take pride in the relationships we have with our clients. For those who place their trust in our business we promise the below.
We will be ethical and honest. It's the right thing to do.
We will treat every client with courtesy and respect.
We will respond efficiently to requests made by our client.
We will listen to our client.
We will continue our insurance education.
We choose to be an independent insurance agency so we can bring choices to our clients.
We will place insurance coverage with financially sound, reputable insurance companies.
Is your business and personal insurance being handled by educated, experienced professionals?…………..As you can see, we take our continuing education seriously!
We Work For You
Remember as an independent insurance agency we work for you….our client….not for an insurance company. We work for you by offering the best coverage at the most competitive price. Give us a call today to see how we can help with your business or personal insurance!
If you'd like to get started with a complimentary quote and/or policy review, we'd be happy to help you any way we can. Simply complete the fields in the form below or just click the Get a Quote button to get started online in a matter of seconds.
We appreciate the opportunity to help you, and look forward to servicing your insurance needs! Feel free to call us directly if you have more detailed questions.