Quality Coverage Built Into Our Tree Trimmer Insurance Program
This Special Insurance Program is for Missouri tree trimmers, tree service companies, aborists and lawn care businesses!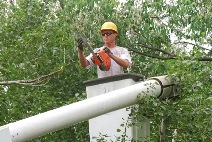 Tree Trimmers and other companies that specialize in tree care, tree removal, pruning, stump removal and lawn care should contact us about this special insurance program. We'll help guide you to the kind and type of insurance products you may need for your business at an affordable price!
Tree trimming insurance is a unique insurance product. Not many insurance companies will want to insure this type of business operation. There are many inherent insurance hazards that you face operating this type of company. Employee injury is high on the list of potential problems when it comes to securing a workers compensation policy for your tree trimming business. Significant injury hazards are present. We represent several insurance carriers who actively provide workers compensation coverage for your industry. Another area of concern it that of liability exposure, more specific, the potential of significant property damage to other due to your tree removal operations. Don't forget your significant business auto related exposure. Most tree care businesses have a fleet of small to large trucks, some with attached buckets and other equipment, that must be properly insured to protect your business assets. Here's some more information on our Tree Trimming Insurance Program.
Download our Tree Care Questionnaire here: Tree Care Specialist – Lawn Care Questionnaire
Tree and Lawn Care Coverage Available:  
General Liability
Professional Liability
Blanket Additional Insured
Building and/or Business Personal Property
Business Income
Equipment and Tools, including Chippers and Mobile Equipment
Crime Coverage
Umbrella
Business Auto – Including Bucket Trucks
Workers Compensation Coverage
You'll find this Special Insurance Program is designed for:
Tree Trimmers
Tree Pruning
Stump Removal or Grinding Service
Aborists and Certified Aborists
Landscaping
Lawn Care
Snowplowing
Limited Pesticide/Herbicide Application
And Others!
So if you find yourself in need of a comprehensive insurance program for tree care specialists and professionals be sure to contact Mid America Specialty Markets to receive complete details or to secure a quote for your business!
Contact Us